Proudly supporting the Northstar Family Support Project
Written by Richard Lynch: ilovelimerick.ie
Ingenium Training and Consulting supported the Northstar Family Support Project by organizing a pub quiz and raising just under €2000. Northstar was presented with the cheque on Wednesday, December 11 at their headquarters.
North Star Family Support Project was developed as a community response to the negative effects drug use was have having for families living in the Northside of Limerick city.
While it started as a Northside project, demand has grown over the last few years and it has since become Citywide. This has resulted in the service moving into 28 John street, making the service more available to all families across the limerick city.
In August of this year, they were contacted by Janna, a staff member working in Ingenium. Janna had heard about the positive work Northstar was providing to the people of Limerick and wanted to support this cause through Ingenium. Janna met with the staff and participants of Northstar to get a better understanding of the services they provide and how it makes a difference in the participant's lives.
They decided to hold a Fundraising Pub Quiz Night in Flannery's pub, with the venue and finger food graciously given by Flannery's. The quiz had almost a dozen of high-valued prizes, including vouchers for Tuscany at the Bistro, the Savoy Hotel, and The Hook and Ladder, along with gift sets and jewelry.
The night was a huge success, with the support being so immense that extra quiz tables had to added.
Joe Slattery, Northstar Family Project Co-ordinator said, "We help families that are affected by a loved one's substance abuse in a caring environment, where families can come in to get the supports they need to help them live day to day."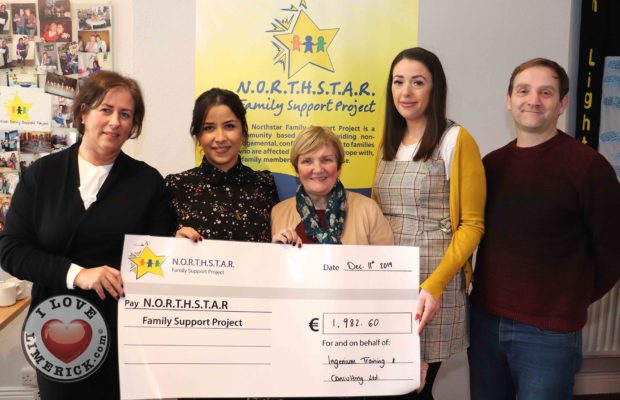 Pictured at the Ingenium Cheque Presentation to the Northstar Family Project is Julie Doyle, Business and Events Co-ordinator Ingenium Training Consulting, Janna Gasanova, Ingenium Project Lead, Terry Byrne, Family Support Worker, Grace O'Connor, Northstar Receptionist, and Joe Slattery, Northstar Family Project Co-ordinator. Picture: Kate Devaney/ilovelimerick.
We caught up with Joe Slattery, Head Coordinator at North Star Project, a service that provides counselling and support to families dealing with addiction. Limerick business, Ingenium have kindly raised close to €2,000 for the service! pic.twitter.com/rseLjD9oLG

— #LimerickTilliDie (@ilovelimerick) December 11, 2019
Thank you to the team at www.ilovelimerick.ie, to read more about North Star from them, go to ilovelimerick.ie